Commercial Kitchen Exhaust & Make Up Air Fans
Exhaust Air
Streivor Air Systems Centrifugal Upblast Exhauster Units are an integral part of the Commercial Kitchen Ventilation system. The exhausters are specifically designed for all the conditions encountered when exhausting grease and fumes from kitchen hoods.
---
Upblast Exhaust Air Type I
The EX-UP (Belt Drive) models are UL listed under Standard 762 for temperatures up to 400°F. Grease residue is collected in a separate collection box designed to minimize grease deposit on the roof.
A belt drive centrifugal upblast exhauster designed to discharge exhaust air high above the roof surface. The belt drive centrifugal upblast exhauster is Listed UL 762 for grease laden exhaust applications.
High pressure models HP and XP are available for applications with static pressures up to 4″ and 5" respectively. Belt drive centrifugal upblast exhauster exhausters are available in sizes ranging in capacities from 330 to 33,374 CFM.
UL Listed.
---
Utility Exhaust Air Type I
The EX-UT is specifically designed for commercial restaurant use. The EX-UT is AMCA Certified Sound and Air and is UL Listed 762 for removal of high temperature grease and cooking vapor. The EX-UT is ideal for exhausting high CFM's at high static pressure.
Model EX-UT  is a belt drive centrifugal utility set designed for high efficiency and low sound output. The EX-UT utility set is a medium duty fan available with capacities up to 23,230 CFM and up to 3 ½" static pressure. Maximum operating temperature of the EX-UT is 300°F. The EX-UT's compact design allows quick and easy installation in equipment rooms or on rooftops for restaurant exhaust applications.
UL Listed.
---
Downblast Type II


Streivor Air Systems Centrifugal Downblast Roof Exhauster units are ideal for high volume, lower pressure air exhaust. Downblast Exhausters are available as DD-DW (Direct Drive Downblast) and the EX-DW (Belt Drive) models. Both include deep spun venturis, all aluminum non-overloading wheels and can include an optional Lek-Trol speed controller and curb. The DD-DW model is available in a range of 430 CFM to 2160 CFM. The EX-DW Model is available in a range of 504 CFM to 33244 CFM. These models carry the AMC
A Certified Ratings seal for air performance.
UL Listed and CSA Labled.
---
Electrostatic Precipitator


Contact Streivor Air Systems today at 925-960-9090 or streivorsales@streivor.com for more information on Electrostatic Precipitators.
Make-Up Air
Most buildings require a supply of fresh make-up air to replace air being removed by ventilation systems exhausting fumes, vapors, mists, gases and odors. Make-up air is not only essential to process exhaust systems, but is also a part of safety and building code requirements.
---
Down Draft Filtered Air Supply
For those buildings with an enclosed, clean environment, the make-up air must be filtered. In some cases local codes require the use of filters in all make-up air units. Streivor's SUFA product line is a complete roof top package, which includes the power unit, washable aluminum filters and removable hood. The SUFA filters are easily accessed by removing the top cover. The SUFA filter(s) can be removed from the intake. SUFA Filtered Air Fans are available in a range from 800 CFM to 14,000 CFM. SUFA Fans are listed for safety in the "Directory of ETL Listed Products" for Power Ventilators (Category 209) in accordance with the Fourth Edition of UL Standard for Safety ANSUL 705-1984.
ETL Listed.
---
Evaporative Coolers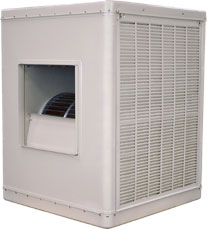 Evaporative cooling is one of the oldest and most natural forms of climate control. This process occurs when hot, dry air absorbs moisture as it passes over a body of water. As the water evaporates, the air is cooled and energy is exchanged resulting in lower air temperatures. Today, this process has been refined for natural and efficient cooling.
The coolers lower indoor temperatures by combining the natural cooling properties of evaporating water with an efficient air moving system. This combination of moisture and a steady breeze can lower indoor temperatures by as much as 30'F.
These American made commercial evaporative coolers are built for high performance, easy installation and low maintenance. The coolers are made with a 1-piece bottom pan that helps prevent corrosion and leaks. The exterior and interior finish is polyester powder-coated for durability. Side Discharge and Down Discharge models are available with a range of 1520 CFM to 17544 CFM.
UL Listed.
---
Gas Heated Systems
The indirect gas fired heat exchanger is manufactured from stainless steel and is in sizes from 175,000 through 1,200,000 BTUs at 78% to 80% thermal efficiency. Air flows of 1,200 to 16,000 CFM are available. They can be expanded to handle virtually any size of installation. Indirect Fired systems offer a total value package with less hardware, higher efficiency, and longer life expectancy. Can operate on either Natural or LP gas.
All units are constructed of rugged galvanized steel for optimal weather resistance. Heavy-duty fans with angle iron frame and pillow block bearings with grease fittings offer long life, dependable operation, high efficiency and low sound levels. Simplicity of design, cascading burner technology, and hot surface ignition deliver cleaner emissions than traditional equipment.
Advanced digital controls dynamically manage the burner system and provide interfaces for remote monitoring and control. Indirect Fired units can operate independently or be connected to your energy management system for monitoring and adjustment.
AGA and CGA approved heat exchanger. 
ETL listed blower.